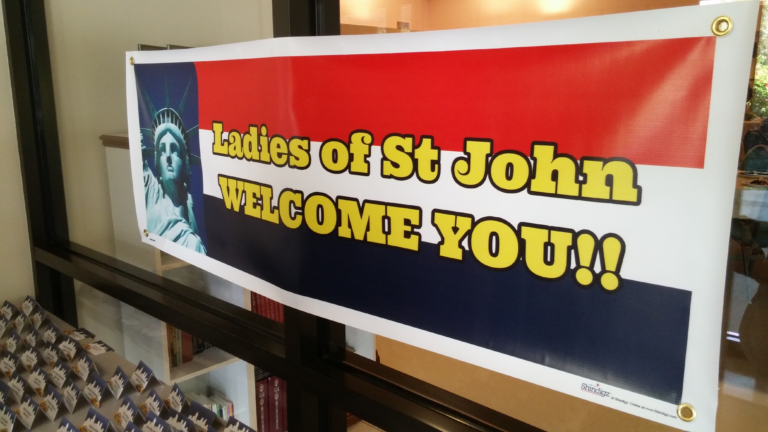 Who are we?  
The Ladies of St. John (LSJ) actively contributes to the life and work of the Parish and the mission of our Church, which is to share our blessings and to show concern for one another.  The Ladies of St. John serve our youth and community by providing scholarships to high school students and supporting local nonprofits throughout the year through toy, food, and clothing drives.  All ladies of our parish and community are welcome!
When and where we meet:  We hold monthly meetings from September to May on the third Monday of each month at 7:00 p.m. (unless otherwise noted) in the Parish Hall.
Annual Dues of $25 are payable in September.
Guests/Vistors:  $5
Click on this link to see photos from our Broadway luncheon LSJ Annual Luncheon
Be sure to also take a look at the Ladies' photo gallery to see photos from our past events.
BOARD MEMBERS:

President: Martha Schulman
Vice President: Elizabeth Daniello
Treasurer: Dr. Anita Verga
Recording Secretary: Margaret Devine
Corresponding Secretary: Maria Heredia
Trustees:  Reha Picozzi
              Rosemary Ziemba
The First Event of the Season:  "High Tea Party" – Monday, September 11th – 7:00 p.m. at St. John's Parish Hall
R.S.V.P. by August 28 Cell/Text Martha at (561) 674-7175