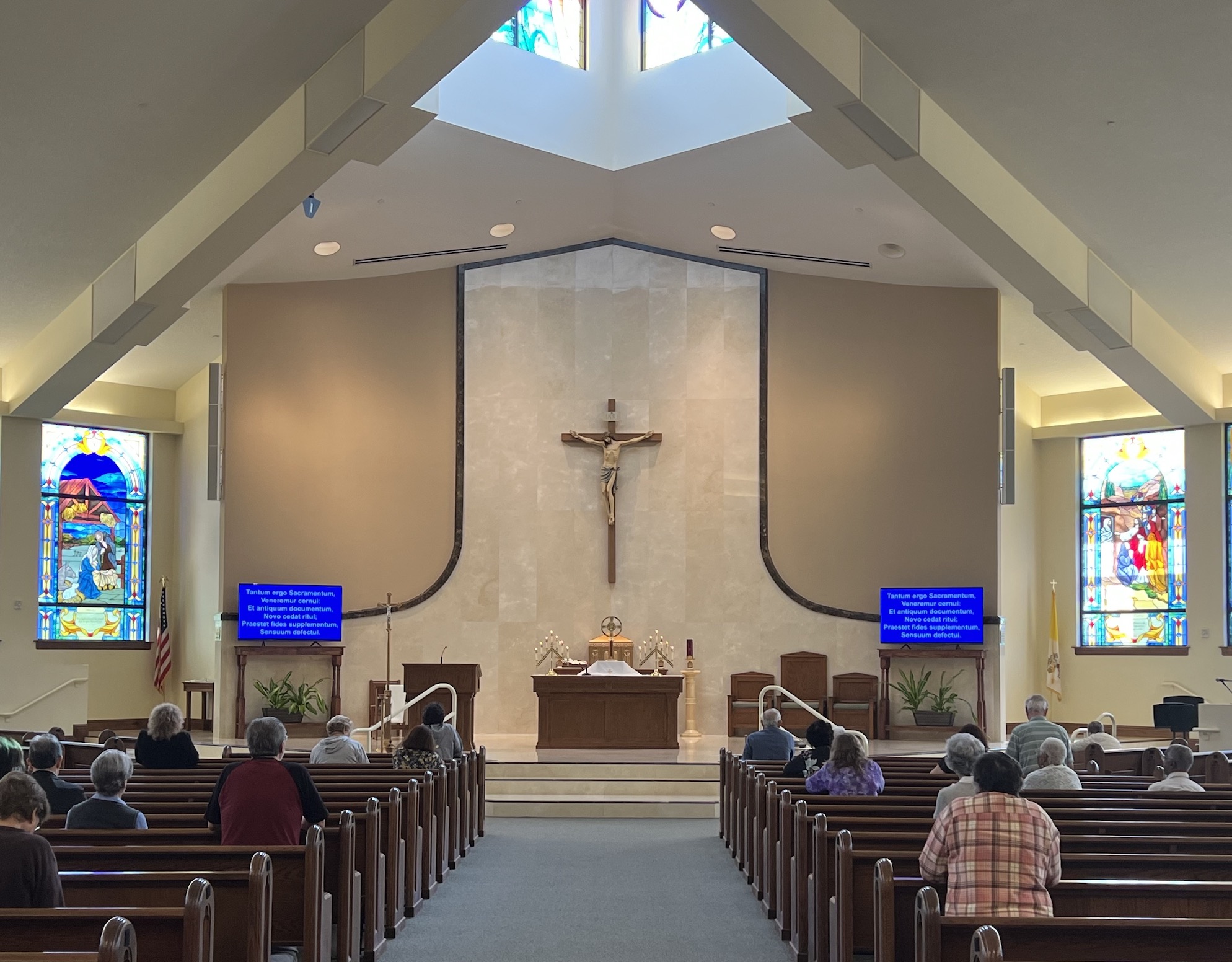 Dear brothers and sisters in Christ,

Grace and peace of our Lord, Jesus Christ be with you. In the Gospel of St. Matthew, we find a deeply meaningful and thought-provoking question posed by Jesus to His disciples: "So you could not keep watch with me for one hour?" (Matthew 26:40). These words, spoken during the agonizing moments before His crucifixion, reflect the longing of Jesus for His disciples to remain in His presence, to be attentive to His words, and to share in His suffering.

As we embark on the National Eucharistic Revival, declared by the Conference of Catholic Bishops and ongoing until the National Eucharistic Congress and Missionary Sending concludes on July 17-21, 2024 in Indianapolis, Indiana. I invite you to heed the echoing call of Jesus in your own lives. Let us respond to His question with a resounding affirmation, making a commitment to spend precious time with the Lord in Eucharistic Adoration.

In the depths of our souls, we recognize the sacredness and significance of the Eucharist—the true presence of Jesus in the Blessed Sacrament. It is in Eucharistic Adoration that we have the privilege of communing intimately with our Lord, gazing upon His loving countenance, and offering our adoration, thanksgiving, contrition, and supplication.

I am pleased to inform you that our chapel is open every day from 8:00 a.m. to 3:00 p.m., providing a serene and tranquil environment for you to encounter the Lord in the Eucharist in the Tabernacle. Take a moment to reflect on the immense gift we have been given—the opportunity to be in the presence of the Divine, to pour out our hearts before Him, and to be transformed by His grace.

Furthermore, I invite you to join us every Wednesday evening at 6:00 p.m. to 7:00 p.m. from September through May for a Holy Hour with Benediction. This dedicated time of solitude, meditation, and adoration allows us to come together as a faith community, united in our reverence and love for the Eucharistic Lord. It is a time to surrender our burdens, seek spiritual renewal, and grow in our shared devotion to the Blessed Sacrament.

Also, on every First Friday of the month after the 8:30 morning Mass, we have The Anointing of the Sick with Exposition and Benediction of the Blessed Sacrament from 9:00am to 10:00am.  It is a time to pray and receive physical, emotional and spiritual healing for ourselves, our loved ones and all those gathered at the Church. "For I the Lord, am your healer." (Exodus 15:26) 

Remember, dear friends, Eucharistic Adoration is not limited to a select few; it is open to all who seek a deeper connection with our Lord. I encourage you to set aside a special time during the National Eucharistic Revival to keep watch with Jesus, just as the disciples were called to do in their moment of trial.

Let us approach this sacred time of the National Eucharistic Revival with open hearts and a renewed commitment to the Eucharist. May our encounters with Christ in Eucharistic Adoration be transformative, allowing His divine presence to permeate every aspect of our lives and guide us to a deeper union with Jesus, in the Eucharist.

May the Holy Spirit inspire and guide you as you respond to this invitation, and may the grace of the Eucharistic Lord abundantly bless you and your journey of faith.

In Christ's love,

Fr. Dominic Toan Tran, Pastor
What Happens in Eucharistic Adoration!
Eucharistic Adoration
Bishop Barron comments on Eucharistic Adoration.
How to Make a Holy Hour